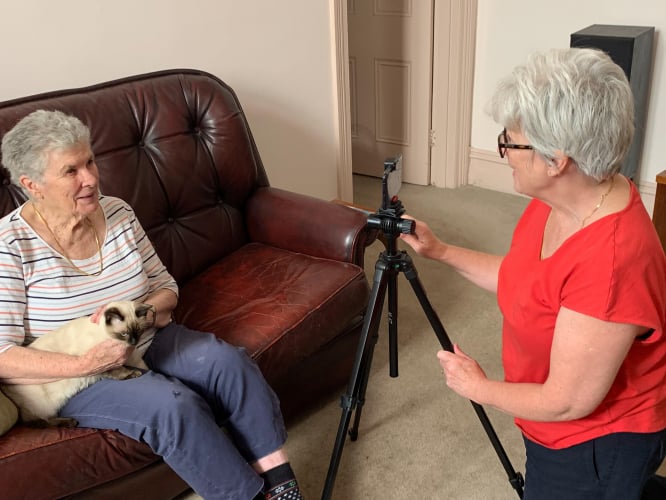 Make a timeless keepsake for your family and become a part of Australia's history.
Let's do this together.
It's really simple. You film an interview of a 100-year-old and we'll edit it. 
As professional filmmakers, we have created tutorials with our top tips on how to film on a smartphone, how to interview a 100-year-old and how to scan old photographs. We also have a list of questions you can use as a starting point for your interview. After you send us your video and photos, we will then edit the film for you.
When the film is finished, you will receive a link so your family and friends can enjoy the 100-year-old's story on our website, YouTube Channel and Facebook page. It might even become a part of a TV series, feature film or a museum video installation!
Register
Register
to set up your account.
Create
a centenarian profile.
Learn
from our tutorials to help make your video.
Print
the provided interview questions.
Film
your video with the centenarian.
Send
your video and photos to us for free editing.
I'm busy, will I have time to do this?
You'll need a bit of time to make sure the camera is set up, you've found the right location and you know what questions you want to ask. The interview itself will probably only take an hour or two. But remember, the memories you'll have captured will last for generations.
I don't have the latest phone. Is that okay?
Any smartphone from the last 5 years should be fine. If you don't have one, someone in the family probably will.
I don't know what questions to ask?
We provide a list of questions. You can stick with them or you can add your own. It's up to you.
Will my Grandmother's life really be interesting enough?
EVERYONE has a story. If you ask the questions we'll then edit in the best answers.
We live in a remote area, can we still participate?
Absolutely. And if you don't have good internet follow the instructions to send us a USB drive.
What if Dad's a bit hard to understand?
Move the camera in close (don't zoom in) and we'll also be able to help out in the edit room. Also, all our videos will have English language captions.
What if the centenarian doesn't speak English?
Unfortunately, at this stage, we don't have the resources to edit any video that is not in English.
I love the idea but don't have the time, do you have any suggestions?
There's always the option to pay for a professional crew to shoot and edit the video for you. Contact us for more information.
I'm a technical luddite, can you assist me?
Get the family involved – there's a budding filmmaker in most families! Or just give it a go yourself. Our video tutorials will answer most questions.
Are you going to include everything we shoot?
Generally speaking, when it comes to filmmaking, 'less is more'. Editing allows us to select the bits that best tell the 100-year-old's story.
How important are photos of the centenarian?
Very! Photos will give your video a more professional look. If you also happen to have some film/video, well that's a bonus!
Give me three reasons why I should get involved?
Well… it fun, it's forever and it's free!
I'm confused, can you help me?
Watch our tutorials and if you get really stuck contact us and we'll see if we can help.
I know why I want to do it, but what's in for you?
Us? Well, we're passionate filmmakers. With your stories, video and photos we'll be able to make a great website and maybe even other projects like a TV series or a feature documentary.
My Great Grandfather is a bit reluctant about being interviewed. Any suggestions?
Tell him it's for the family. A keepsake forever.
Tips to video a 100-year-old
Filmmaker, John Winter, gives his tips on how to video an interview with a smartphone or a camera.
With lots of audio and video hints, as well as suggestions on how to transfer data from your phone to your computer, this tutorial will help you shoot a fabulous video for The 100 Project.
Tips to interview a 100-year-old
Film producer, Ros Walker, offers 10 tips on how to go about interviewing a 100-year-old.
It's a "must watch" video if someone in the family wants to interview a centenarian for The 100 Project.
Sample Interview Questions
Prefer to pay a professional crew to shoot your video?
Contact The 100 Project with your postcode and we'll do our best to find a video production company near you.